Annual Berths
Weymouth Harbour offers great value berthing in well sheltered waters, for over 450 vessels including berths for vessels up to 20 metres LOA. All just a few minutes walk to the town and seafront, where you can enjoy alfresco dining, golden beaches or shopping in the town.
We also offer Jet-Ski berthing and a great value, secure 'Boat on Trailer or Trailer' only storage facility! And as we can't provide a dedicated parking facility, but know our customers want convienient parking nearby we've managed to arrange a 50% discount on purchase of a season ticket for annual marina berth holders!
WC and shower facilities are on North Quay and the facilities at Custom House Quay include an accessible/family washroom complete with baby changing and laundry facilities available.
Complete an application for mooring online.
As an annual berth holder you can enjoy the following:
*Simply book in advance at the Harbour Office
Pay your invoice online via the Weymouth and Portland Online Payments link.
We can now send invoices and other billing correspondence electronically. To sign up for this service please visit the Dorset for You website by clicking on the Weymouth and Portland Electronic Invoicing link, complete your details and agree to the terms and conditions before submitting.
Marina Facilities
North Quay Pontoons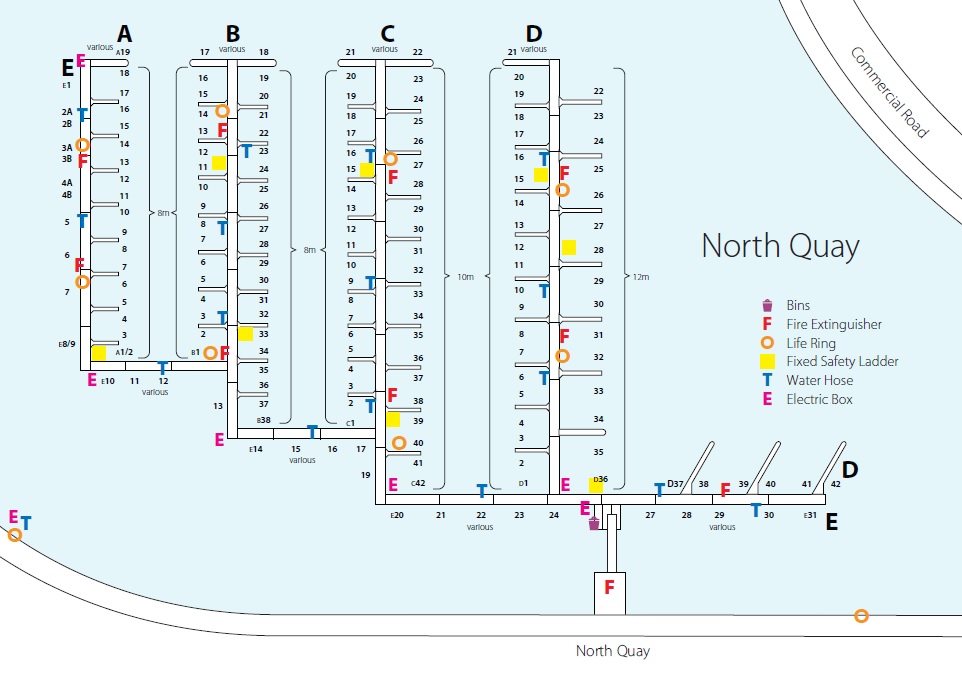 Water Supplies
Lighting
Electricity at each finger berth
Refuse and Recycling Bins
Toilet and Shower Facilities
There are also a few alongside twin berths that can accommodate vessels under 6.5m
Westwey Road Pontoons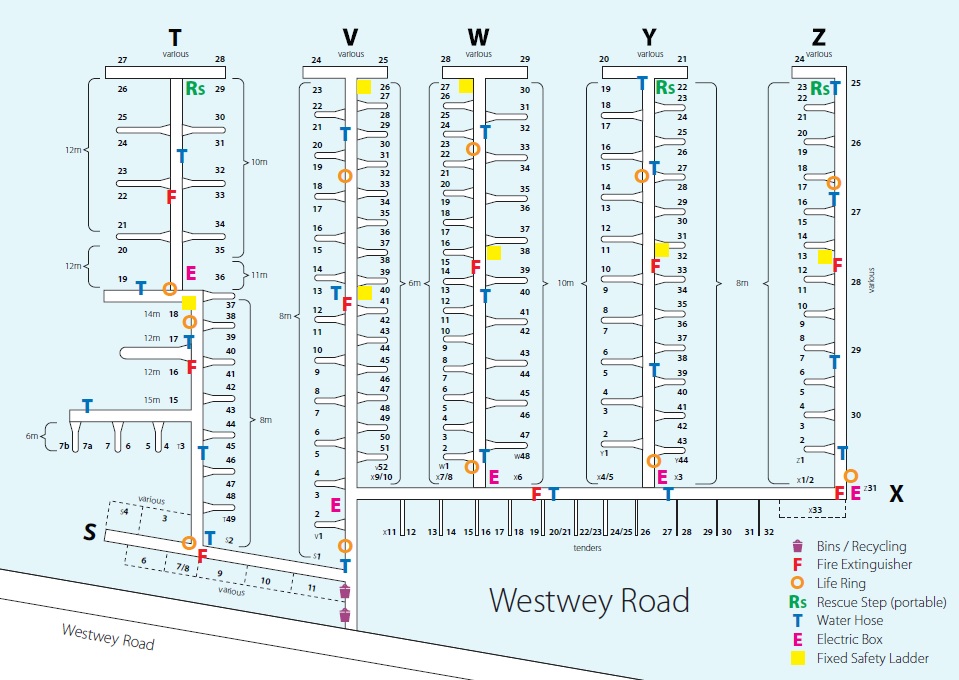 Water Supplies
Lighting
Electricity on most berths
Refuse and Recycling Bins
Toilet Facilities
Chain and Sinker Moorings
These are located along Westwey Road and are restricted in allocation to Weymouth and Portland Borough Council residents only.
Temporary Berths
Short term temporary use of berths and winter berthing are also available. For current information and prices, please contact us or call in to see us at the Harbour Office, 13 Custom House Quay.
Annual Berthing Fees April 2018
(all prices include VAT where chargeable and are per metre or part metre unless otherwise stated)
Marina Berths
Pontoon Berths
£349.13
Residents rate for exisiting customers only*
£321.20
(there are some twin berths available which will be charged at 80% of the resident or non resident rate)
Chain and sinker fees residents only*
Tenders up to 3m
£18.24
Vessels over 3m
£73.32
*A resident is a person whose main home is in the borough of Weymouth and Portland Borough Council who is on the electoral roll and who is liable for full Council Tax.
BOAT ON TRAILER STORAGE
£2 per metre per week plus VAT
(View full 2018 Prices here)
We look forward to welcoming you as a customer
Moorings Officers (Claire and Becky) - +44 (0) 1305 838422