County Town
The historic market town of Dorchester offers visitors shopping, peaceful river walks, opportunities to delve into its history and a range of modern eateries in the expanding Brewery Square development.
Catch the number 10 bus from the Kings Statue bus stop to the County Town of Dorchester. Brewery Square is a vibrant new quarter in the heart of Dorset's county town, re-defining Dorchester, with great shops and restaurants that surround multi jet water fountains, a favourite with kids and during the festive season, the area is transformed with ice skating in the square.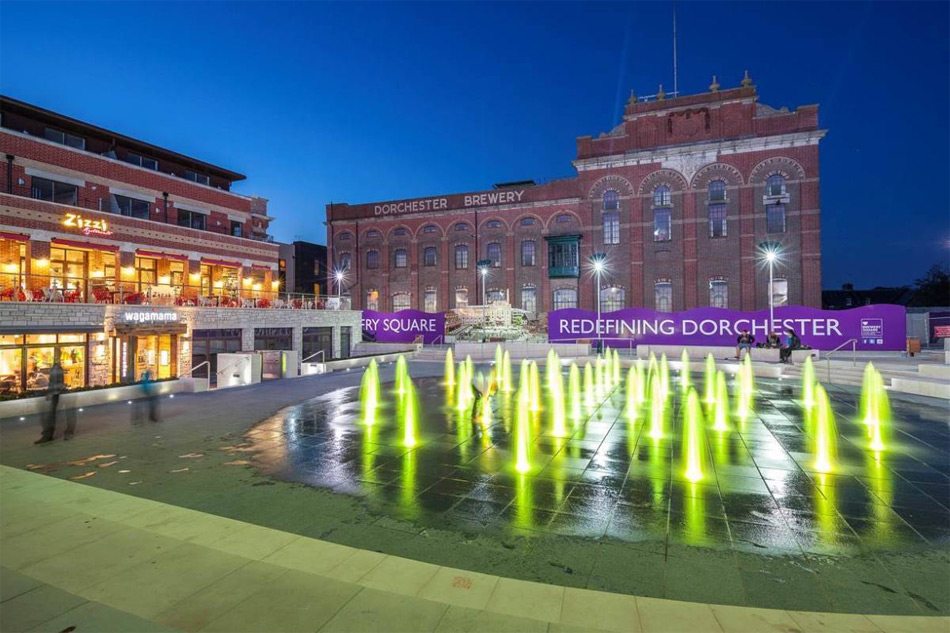 Discover Dorset in depth at Dorset County Museum and explore the story of the county from prehistory to the present day. Visit the nostalgic Victorian Gallery, where you can follow in the footsteps of ancient Romans by walking on their mosaic floors. The Jurassic Coast Gallery is where you will learn about dinosaurs and how their remains formed the rocks and landscape that we know today. Visit Thomas Hardy's study and explore the lives and works of Dorset's other literary greats. Dig down into the Archaeology Gallery, concentrating on the story of the settlement at Maiden Castle.
Maiden Castle itself can be visited. Located just on the outskirts about a 20 minute walk from Weymouth Avenue bus stop. It is the finest and largest Iron Age hill fort in Britain, with enormous earthworks and complicated entrances. Its banks enclose an area the size of 50 football pitches, which would have been home to about 200 families.
A great way to discover Dorchester is by following one or more of Dorchester's four town trails. Pick up a leaflet from the Dorchester TIC or follow the pavement plaques around the town.