Visiting Us
Visiting vessels sHOULD CONTACT WEYMOUTH HARBOUR FOR BERTHING ADVICE; call sign "weymouth harbour" on vhf channel 12 before entering the harbour or have booked in advance.
We have recently replaced our Alpha, Bravo and Charlie visitor pontoons on the starboard side of the outer harbour. As the black D fenders on these pontoons are brand new, there is a slight residue remaining from their manufacture which could transfer to boats fenders.
We are working with the pontoon contractors and manufacturer to look at fendering options, in the meantime we advise mariners to use fender sleeves if you are worried about your boat fenders being marked.
The harbour office have a limited number of fender sleeves to be available for loan, please enquire on arrival.
Most of our visitor berths are alongside floating pontoons, so you'll find it is a vibrant and friendly community atmosphere here at Weymouth. If however you do have any special requirements please let us know and we'll try to accomodate you.
Visiting Leisure Craft 2023
| OVERNIGHT STAYS | 1 APR - 30 SEPT | 1 OCT - 31 MAR |
| --- | --- | --- |
| Per 24hrs, arrival and departure 12:00 noon, per metre; a part of a metre is rounded up to the nearest metre. Charity rate is available on request. | £3.75 | £2.85 |
| Weekly rate, per metre, per week | £20.00 | N/A |
| Vessels over 23.5m | £7.50 | £5.70 |
The use of showers and water is included in the above berthing fees.
| SHORT STAY | FEE |
| --- | --- |
| Up to 2 hours only, price per short stay visit and only available until 19:00 | £6.00 |
Plug-in charge for electricity for up to 24 hours unless on a metered supply (subject to change if supply price changes), allocated on a first come, first served basis and extension leads are available for the duration of your stay.
| VESSEL TYPE | FEE |
| --- | --- |
| 16 amp supply | £3.00 |
| 32 amp supply | pay per unit* |
| 63 amp supply | pay per unit* |
*For vessels requiring a 32 amp or 63 amp electricity supply, please contact the Harbour Office for further information.
Useful Information
Our shower facilities are open 24 hours via a pin code lock. This code can be obtained from the Berthing Office upon arrival.
All vessels should hold appropriate third party insurance cover whilst visiting the Port of Weymouth and a minimum cover value of £2,000,000 is requested.
Most of our visitor berths are alongside floating pontoons with gangway access ashore. If you arrive during silent hours, please proceed to a suitable berth as shown on the chart below, or raft out on a vessel of a similar length and type: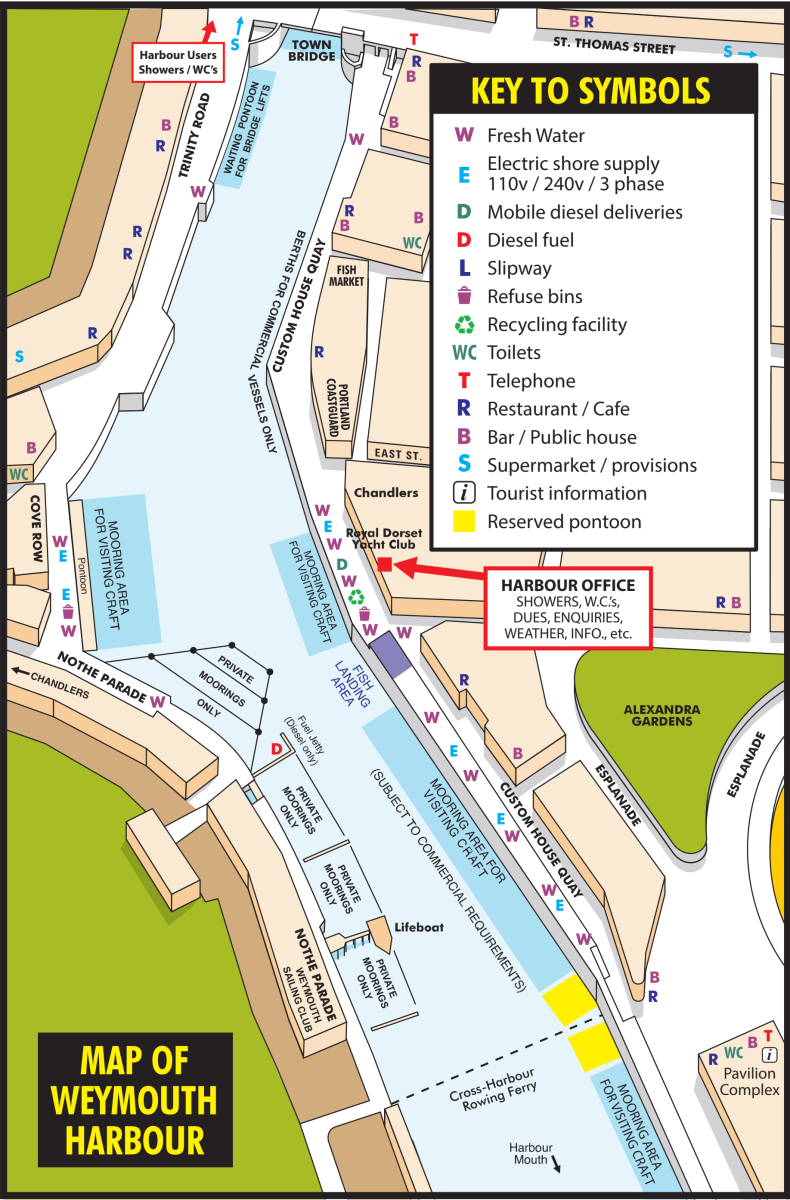 Vessels of 1.5m draft max only to berth on the south side of the harbour (the Cove) and adhere to mooring signage
Vessels over 10 metres, please berth on the north side, either opposite Lifeboat Station or outside Harbour Office
For larger craft (over 18m), advanced notice of your arrival will give us an opportunity to try and make a suitable space