Annual Berths
Weymouth Harbour offers great value berthing in well sheltered waters, for over 400 vessels including berths for vessels up to 20 metres LOA and jet-ski berthing. All a mere 5 minutes' walk from the town and seafront, where you can enjoy alfresco dining, golden beaches or shopping in the town.
WC and shower facilities are on North Quay and the facilities at Custom House Quay include an accessible/family washroom complete with baby changing and laundry facilities available. On each pontoon gatehouse there are pontoon plans showing the layout of the berths and information on who to contact in an emergency:
Complete an application for mooring online.
As an annual berth holder you can enjoy the following:
Free use of the grid*
Free use of slipway*
*Simply book in advance at the Harbour Office
Pay your invoice online via the Dorset Council link. Please note that you will need your Dorset Council invoice number to use in the reference field - this is seen as the Document No. on your invoice. If you are unsure which number to use please call the Harbour Office on 01305 838422.
We can now send invoices and other billing correspondence electronically. To sign up for this service please visit the Dorset for You website by clicking on the subscribe to e-billing link, complete your details and agree to the terms and conditions before submitting.
Marina Facilities
North Quay Pontoons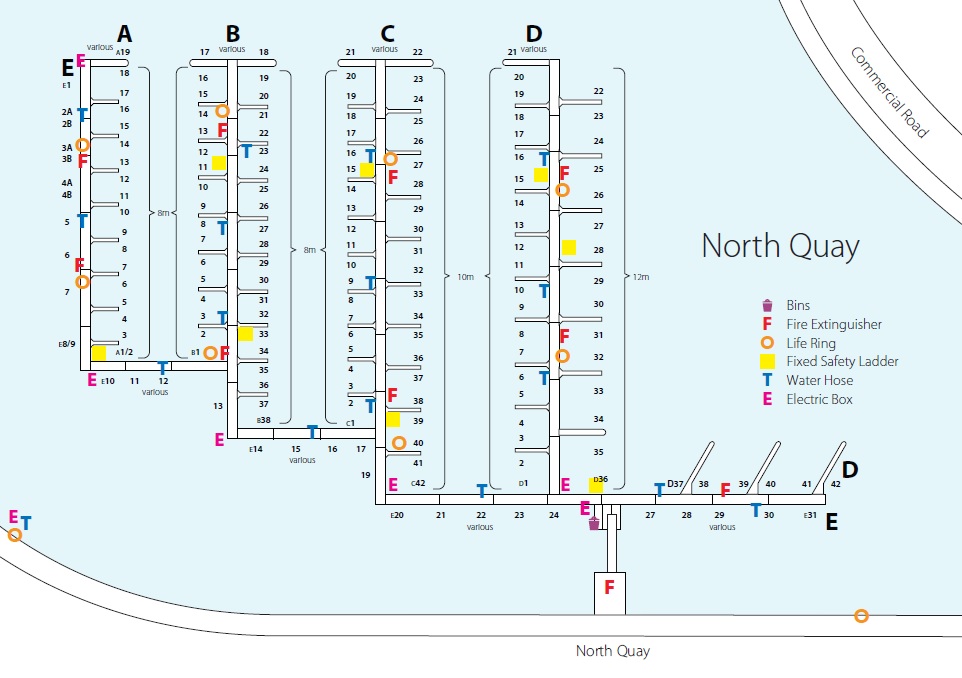 Water Supplies
Lighting
Electricity at each finger berth
Refuse and Recycling Bins
Toilet and Shower Facilities
Westwey Road Pontoons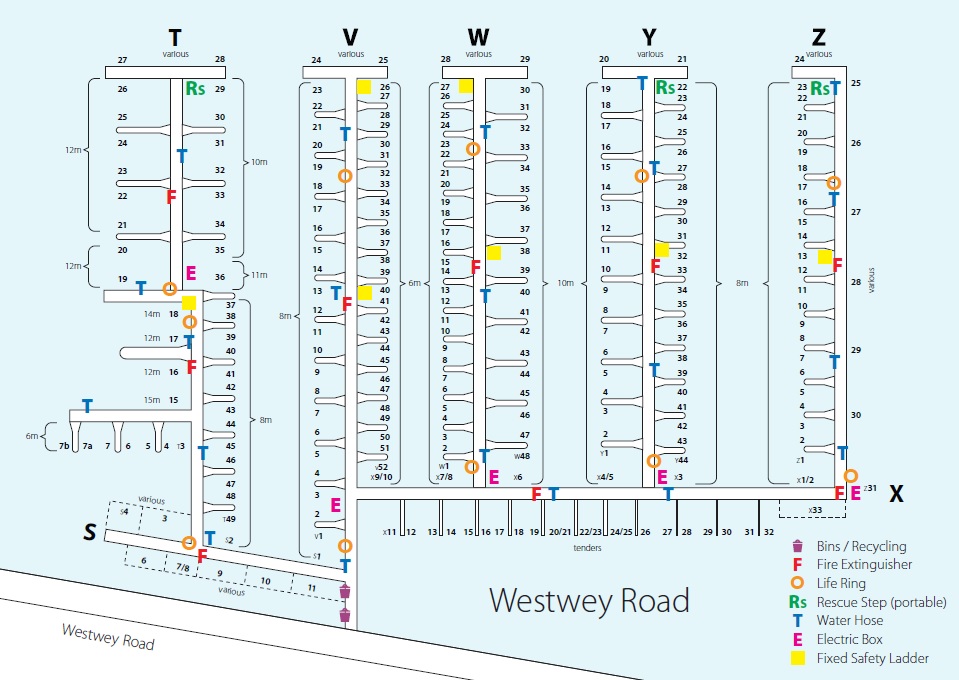 Water Supplies
Lighting
Electricity on most berths
Refuse and Recycling Bins
Toilet Facilities
Chain and Sinker Moorings
These are located along Westwey Road and are restricted in allocation residents of DT3, DT4 and DT5 postcodes only and are for a maximum LOA of 6.5m.
Temporary Berths
We also offer 6 monthly and monthly temporary use of annual and jet-ski berths as well as winter berthing. For current information and prices, please contact us or call in to see us at the Harbour Office, 13 Custom House Quay.
Annual Berthing 2023
(all prices include VAT where chargeable and are for LOA* )
MARINA BERTHS
Annual Rate (min 6 month based on 6 monthly rate, notice period and adminstration fee)
£397.00
6 monthly rate 1 Apr - 30 Sept
£257.26
Monthly per month 1 Apr - 30 Sept
£52.50
Monthly per month 1 Oct- 31 March
£26.25

CHAIN AND SINKER FEES RESIDENTS ONLY**
Tenders up to 3m
£22.00
Vessels 3m and over (max 6.5m)
£88.00

PWC DOCK PER DOCK
Annual rate (min 6 months)
£1645.00
6 monthly rate 1 April - 30 Sept
£1070.00

Monthly rate 1 April - 30 Sept
£220.00
*LOA means the length overall of the Boat including davits, bowsprits, boarding ladders, sterndrives, tenders, outdrives, anchors, pulpits and pushpits and any other extensions fore and aft of the Boat.
**Chain & Sinkers Moorings - A resident is a person whose main home is in the borough of Weymouth and Portland postal codes of DT3, DT4 and DT5 who is on the electoral roll and who is liable for full Council Tax.
We look forward to welcoming you as a customer