Navigating the Harbour
The harbour entrance lies between two piers. The main channel is indicated by red transit lights at night and diamond shapes by day on the South Quay bearing 239° 38'. The leading lights at the approaches to Weymouth Harbour are high intensity units with a range of 7.5 miles.
A conspicuous addition to the skyline of Weymouth Bay which provides a useful aid to Navigation is the Jurassic Skyline. This white chimney like structure is 55 metres high and has a people pod which can be seen ascending and descending from time to time. At night it is marked by flashing red hazard lights. It lies 200 metres west of the Weymouth Harbour entrance.
Traffic signals are displayed in a vertical line from a mast on the South Pier. When passage in or out of the harbour is restricted the signals will be operational and the lights must be observed.
Please see Reeds Nautical Almanac 9.1.28 for full details. Download the traffic signals chart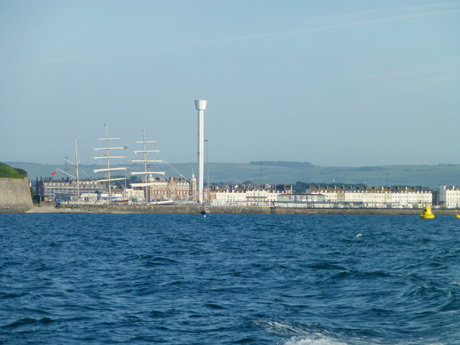 Speed Limits
The speed restriction is that operators of craft proceed at a speed whereby their "wash does not cause annoyance to other harbour users". If in doubt, look behind you, you may be surprised at the effect your wash is having on moored craft left bobbing and dipping in your wake.
Larger Vessels
Weymouth can accommodate larger vessels on our outer berths. Movements of all larger vessels are indicated by the traffic lights on the south pier. If you require advance warning of any vessel movements the berthing office would be able to help, please contact them direct on +44(0)1305 838423 or pop in.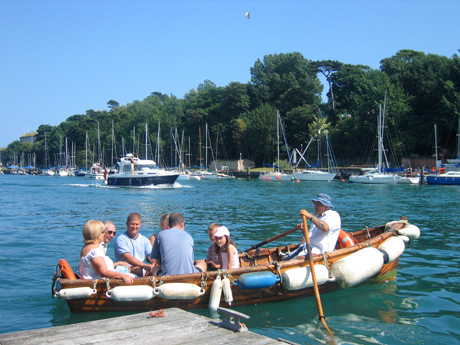 Rowing Ferry
Small rowing ferries operate across the harbour. They will appear randomly at the point indicated on the outer harbour plan and we ask that you give way to them, giving them a wide berth at slow speed.
Harbour Activity
Please ensure you regularly check the Notice to Mariners and Event listings for any increased activity in Weymouth Harbour when passage planning. Additional upcoming events not requiring a notice to mariners can be found on our Facebook page and news section.